THE HIVE ASIA – The tickets for the upcoming "Raja dan Rakyat Berpisah Tiada" concert which will be held in conjunction with the 85th birthday of the Sultan of Pahang, Sultan Ahmad Shah on 27 February 2016, has set a record of being the most expensive concert ticket price ever sold for a show at Istana Budaya.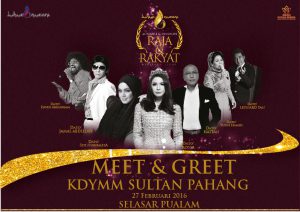 What's even more amazing is that the concert's most expensive ticket price, at RM5,000 which is only limited for 100 seats, were all sold out within a week after its launch, Bernama reports.
"Previously, the "Malam Keajaiban Cinta" concert performed by Datuk Rossa had the most expensive ticket price record, which was at RM1,500. But this concert has broken the record," said Committee Chairman Datuk Mohd Aizuddin Mohd Ghazali.
"The response of the ticket sales is very encouraging and so far about 80 percent of the 1,300 tickets have been sold out," he added.
Held at Istana Budaya at 8.30pm, the concert will see the performances of the seven famous singers who were given the "Datuk" title by the Sultan of Pahang, they are; Datuk Jamal Abdillah, Datuk Hattan, Datuk Siti Nurhaliza, Datuk David Arumugam, Datuk Yusni Hamid, Datuk Rossa and Datuk Leonard Tan.