Metrotvnews.com, Bali: Wakil Ketua MPR Oesman Sapta meraih penghargaan Lifetime Achievement dalam ajang Global Leadership Awards 2016. Oesman dinilai memiliki peranan dan kontribusi besar bagi pembangunan nasional.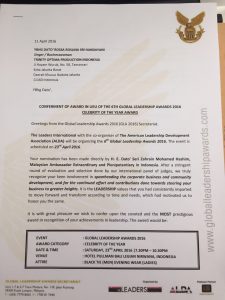 Dalam sambutannya, Oesman mengaku bangga memperoleh penghargaan tersebut. Dia mengapresiasi majalah Malaysia yang menggelar acara tersebut di Indonesia.
"Saya bangga tentang pelaksanaan Global Leadership Award diadakan di Indonesia, Bali," kata Oesman di Pullman Hotel Bali, Sabtu (23/4/2016).
Dia berharap ajang penghargaan tersebut menjadi momentum peningkatan kerja sama antara Indonesia dan Malaysia. Terutama di bidang ekonomi dan pariwisata.
"Hari ini hari yang sangat baik dan mengikat hubungan Malaysia dan Indonesia khususnya. Sayang sekali ini kurang promosi, andai kata kita kerja sama kita akan bikin ini lebih besar," tandas pria yang pernah menjabat Ketum HKTI ini.
Selain Oesman, sejumlah pengusaha dan artis Tanah Air juga memperoleh penghargaan Global Leadership Awards 2016 dengan kategori berbeda. Yaitu, Chairul Tanjung, pengusaha sekaligus pemilik CT Group ini meraih kategori Lifetime Achievement.
Kemudian Bupati Kutai Kartanegara Rita Widyasari. Dia menerima penghargaan Woman Icon of The Year. Sedangkan Menteri Pariwisata Arief Yahya memperoleh kategori Best Destination Marketing.
Berikutnya, Rossa Roslaina Sri Handayani, penyanyi sekaligus pemilik Trinity Optima Production Indonesia ini menerima penghargaan Celebrity of The Year.
Selanjutnya, Pemilik PT Multivision Plus Group, Raam Jethmal Punjabi, meraih penghargaan Leadership Excellence in Entertainment. Terakhir, Maria Lukito founder and editor in chief dari Mobiliari Group mendapat gelar Leadership Excellence in Media.