Best Indonesian Food & Travel – You must have heard about the slogan called " Wonderful Indonesia ". This slogan becomes so familiar in many of people ears recently. You can easily find this on television, radio, internet advertisement, and even in printed media. Additionally, you can also hear this slogan in a song which is sung by the famous Indonesian diva, Rossa.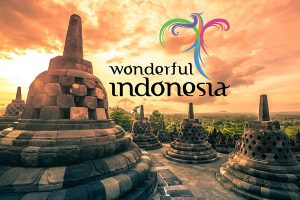 " Wonderful Indonesia " is actually the brand used by Indonesian Ministry of Tourism in promoting Indonesia tourism. The brand " Wonderful Indonesia " is aimed to bring the awareness of Indonesia travel, tour, and foods, and also culture to the world. This " Wonderful Indonesia " brand appears in many online and offline advertisement and publication.
In 17th October 2016, Travel Weekly Asia determined the brand " Wonderful Indonesia " as one of the top 50 The Best Destination Marketing 2016. " Wonderful Indonesia " is ranked as the 47th from 144 countries. This is an amazing achievement since Indonesia was rated as NA (Not Available) before this slogan appeared. The popularity of " Wonderful Indonesia " grows rapidly several strategies which are proposed by Indonesian Ministry of Tourism.
Strategies in Developing the Brand " Wonderful Indonesia"
Indonesian Minister of Tourism of Indonesia explained the three strategies which are used in developing the brand. The first strategy is the massive promotional strategy on BAS (Branding-Advertising-Selling) which is carried out in the previous year until the mid of 2016. During this time, brand "Wonderful Indonesia" becomes widely known to the world. Meanwhile, the second strategy is to focus the marketing of the most popular tour and travel destinations in Indonesia which are equipped with the 3A (Attraction, Accessibility, and Amenity). The first three tourism destinations are Bali, Jakarta, and the Riau Island (including Batam and Bintan). After focusing on these tourism destinations, there will be added 10 new priority destinations. The third strategy is to deregulate the policies regarding tourism sectors. The government removed strict regulation, so that foreign cruise ships can easily enter Indonesia harbors. Additionally, the government also shortens the process in getting permission for yachts to enter Indonesian Territorial waters. Besides that, the government also provides Free Visa for 169 countries and also Visa on Arrival for 64 countries.
Here are the airports which facilitate foreign tourists with Visa on Arrival:
1.    Hang Nadim, Batam
2.    Juanda, Surabaya
3.    Kualanamu, Medan
4.    Ngurah Rai, Bali
5.    Soekarno-Hatta, Tangerang (Jakarta).
Here are the harbors which facilitate foreign tourists with Visa on Arrival:
1.    Bandar Bentan Telani Lagoi, Tanjung Uban
2.    Bandar Seri Udana Lobarn, Tanjung Uban
3.    Batam Center, Batam;
4.    Marina Teluk Senimba, Batam
5.    Nongsa Terminal Bahari, Batam
6.    Sekupang, Batam;
7.    Sri Bintan Pura, Tanjung Pinang; dan
8.    Tanjung Balai Karimun, Tanjung Balai Karimun
Goals and Further Effort in Tourism
Indonesia's Tourism Minister stated that the total of International Visitor Arrivals to Indonesia in 2015 is 10.4 million. This achievement passes the target which is 10 million visitors only. In 2016, the target of international tourist to Indonesia is raised into 12 million. This target caused the government to speed up the establishment of infrastructures in Indonesia in order to facilitate the tourism sectors in order to provide the best experience of the international tourists. In order to reach the target, the government also chose 10 priority tourist destinations which are Borobudur, Mandalika, Labuan Bajo, Bromo-Tengger-Semeru, The Thousand Islands, Lake Toba, Wakatobi, Tanjung Lesung, Morotai, and Tanjung Kelayang. More importantly, the government's long term target is to achieve a number of 20 million international tourists to Indonesia in 2019. Furthermore, Indonesia tourism is targeted to be one of the world top 30 best tourism destinations. For next year, the government has prepared direct flight for Jakarta-Labuan Bajo, Jakarta-Banyuwangi, India-Indonesia, and Chengdu-Indonesia. The government also coordinated woth several airlines company such as Garuda Indonesia, Lion Air, Srowijaya Air. This effort is carried out due to gain significant growth in Indonesia tourism in 2017.
Launch Indonesia Travel Xchange (ITX)
Because of these goals, Indonesian Ministry of Tourism collaborated with PT Telekomunikasi Indonesia (Telkom) create a digital platform called Indonesia Travel Xchange (ITX). ITX is an integrated digital marketplace for tourism in Indonesia. This platform is used to gather buyer and seller to enable direct transaction in booking and payment. ITX offers three special benefits. The first is comprehensiveness, which means that ITX covers all tourism industries (both micro and macro tourism industries) in Indonesia. The second is cost effectiveness, which means by using ITX all transactions will be more effective and efficient. The third is customer experience, which means that ITX is comfortable and easy to use by users. By using ITX, international tourists can find many hotels and accommodations, souvenirs, Theme park tickets, and ethnic Indonesian products like Tenun and Aceh Gayo coffee. In other words, ITX enables tourist from around the globe to search, reserve booking, and do payment for tourism destinations in Indonesia by using their smartphones.
December 28th, 2016