Setelah berhasil menjadi Artis Indonesia Pertama yang masuk MTV Asia Spotlight Artist of The Month lewat lagu "Body Speak" serta menjadi Pemenang di ajang voting musik Asia Pop 40 sebagai "Queen of Indonesian Pop", baru-baru ini Rossa mendapatkan nominasi di ajang musik Amerika yaitu Big Apple Music Awards 2017 sebagai Best Indonesian Act.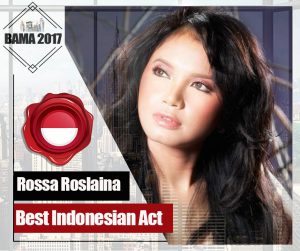 Rossa mendapatkan nominasi ini pada tanggal 5 April 2017 bertepatan dengan dirilisnya album baru Rossa yang berjudul "A NEW CHAPTER" hasil kolaborasinya dengan Musisi Internasional seperti Mitch Allan, Tushar Apte, Fiona Bevan, Stuart Chricton, Gatlin Green, Hugo Lira, Thomas Gustafsson, Negin Djafari, Steve Shebby, Joleen Belle, Michelle Buzz, Nikki Leonti dan lain sebagainya.
Rencananya, Big Apple Music Awards 2017 (BAMA 2017) akan diselenggarakan di King Theather, New York, USA pada tanggal 22 Oktober 2017. Tahun 2016 lalu, acara musik ini diselenggarakan di Dubai.
Cara vote Rossa di Big Apple Music Awards 2017 (BAMA 2017)
– Share yang banyak ke media social kamu
– Tweet yang banyak menggunakan format ini serta tulis kalimat di belakangnya
– Gunakan hastag yang banyak dalam setiap postingan Instagrammu dan tag
Extension Vote 1 Juli – 1 Agustus 2017