SEPANG CIRCUIT, 24 AUGUST 2017 – Fans going to the Formula 1 Petronas Malaysia Grand Prix are in for a grand treat as six Anugerah Planet Muzik (APM) nominees will be performing at the F1NALE Concert.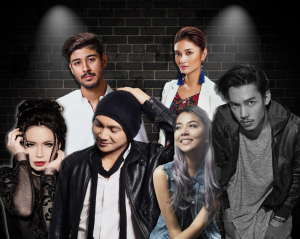 Sepang International Circuit (SIC) reveals the artistes for Day 2 of the music festival being held from 29 September to 1 October which will be packed with entertainment for fans across all ages, and will be held at the B Hillstand facing Turn 13 and 14 of the track.
Anugerah Planet Muzik (APM 2017), the region's most talked about Malay music awards show returns this year, celebrating its 16th edition at MES Theatre at Mediacorp, Singapore on 14 October 2017. Year by year, the regional music awards show has garnered millions of eyeballs and interest from all around the Southeast Asian region especially avid music enthusiasts from Singapore, Malaysia, Indonesia and Brunei. The award show has digitally trended over the years by the social media netizens from around the region.
In celebration of the final F1 race in Malaysia, SIC in collaboration with Mediacorp Singapore will be organising the APM 2017 Prelude as the after-race concert and closing to the final race on Sunday. Six (6) APM nominees and past winners will be headlining the F1NALE Concert, from big names with the likes of Dato' Rossa and Anji from Indonesia, to uprising stars and nominees of APM with millions of fans and viewers such as Aisyah Aziz and Harris Baba (Singapore), Ayda Jebat and Hael Husaini (Malaysia).
"We are working closely with Mediacorp to present good entertainment for fans of the region by showcasing top singers from South East Asia. The concert will be a prelude to the awards night and as the final show at Sepang for the 2017 Formula 1 Petronas Malaysia Grand Prix. We are excited as this is the first time that SIC will be collaborating with a known music award from the region and we are certain it will make for an exciting entertainment for the fans," said Sepang International Circuit Chief Executive Officer, Dato' Razlan Razali at the APM 2017 Press Conference in Hard Rock Café today.
"We will be hosting the 19th edition and the final F1 Malaysia Grand Prix race at Sepang this coming 29th September to 1st October 2017. Although it will be an event with a lingering sadness to it, I think we should still go out on a high for the fans to celebrate and experience F1 in Malaysia."
The six (6) stars for the Sunday show provides a wholesome mix of music genres and appeal to various group of fanbase. SIC and Mediacorp intends to ensure that all ages of fans attending the race will have a variety of entertainment to suit their liking.
Ms Zakiah Halim, Head of Mediacorp Malay Community said, "Mediacorp is thrilled to be part of the F1NALE Concert – APM 2017 Prelude that features award-winning and renowned artistes from the region. We hope this exclusive showcase will give the audience an experience of what is to come at the Anugerah Planet Muzik 2017 awards show and add excitement to the finale of F1 Malaysia Grand Prix race."
Besides the six outstanding APM nominees, the F1NALE Concert will also feature local popular performances with Upin & Ipin as a special treat for our mini fans, comedy sketches by Shuib & Rahim (Shiro) and meet and greet with Aisyah Aziz and Hael Husaini at the Fan Zone Stage in the mall area.
A few days ago, SIC has announced a stellar line-up of local artist who are scheduled to perform on Day 1 at the F1NALE concert comprising of Malaysian legends M. Nasir, Jaclyn Victor and rising stars Akim & The Majistret, Wany Hasrita and Aiman Tino.
The F1NALE Concert is open to all Grandstand ticket holders (Main Grandstand, K1 Grandstand and F Grandstand) and other ticket holders can top-up their tickets to the equivalent value of a Grandstand ticket to enter.
Sepang International Circuit F1NALE Concert Schedule
30 September 2017 (Day 1 – Qualifying Day)
Fan Zone Stage (Mall Area) Tentative Schedule 
11.00am-11.30am and 1.00pm – 1.30pm Performance by Boboiboy & Yaya
3.00pm – 3.30pm Comedy Sketches by Abam Bocey and Atu Zero.
4.00 – 4.30pm Meet & greet: Akim & The Majistret, Aiman Tino and Wani Hasrita.
Main Stage (concert) 6.00pm – 10.00pm 
Aiman Tino
Wani Hasrita
Akim & The Majistret
Jaclyn Victor
M. Nasir
1 October 2017 (Day 2 – Race Day)
Fan Zone Stage (Mall Area) Tentative Schedule 
11.30am-12.00pm and 1.00pm – 1.30pm Performance by Upin & Ipin
12.30pm – 1.00pm Meet & greet: Aisyah Aziz and Hael Husaini
5.30 – 6.00pm Comedy Sketches by Shuib & Rahim (Sepahtu)
Main Stage (concert) 6.00pm – 10.00pm 
Indonesia
Dato' Rossa
Anji
Singapore
Aisyah Aziz
Harris Baba
Malaysia
Ayda Jebat
Hael Husaini