The Jakarta Post – Wonderful Tourism Awards 2017 night that was held in Jakarta on Sept. 27 was concluded with a performance of the famed pop singer Rossa.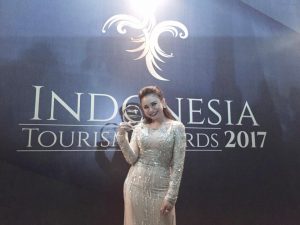 Dressed in a white dress, the singer performed several songs such as "Pesona Indonesia" (Indonesian Charm), "Ayat Ayat Cinta" (Verses of Love), "Sakura" and "Aku Bukan Untukmu" (I'm not for You) that she sang together with tourism minister Arief Yahya. Rossa was given the honor as the "Pesona Indonesia" singer by the ministry.
"I truly appreciate and proud to have been given the trust by the tourism ministry to sing 'Pesona Indonesia' song especially since it is the promotional song of Indonesian tourism. I hope Indonesian tourism grows rapidly under the leadership of Pak Arief Yahya," told Rossa.
The gala dinner was opened with a contemporary dance performance showcasing the cultural diversity of Indonesia and a performance of Saman traditional dance from Gayo, Aceh. The event then continued with a remark from Arief Yahya.
The finale was marked by the winners announcement of nine awards including for the director and cast of Wonderful Indonesia video that won two awards at the UNWTO (United Nation World Tourism Organization) Award-Tourism Video Competition, Indonesia Sustainable Tourism Award (STA), Green Hotel Award Indonesia, Archipelago Restaurant Design competition, Homestay and Community-based Tourism Appreciation and Tourism Awareness Group (Pokdarwis) Award.
In 2018, Indonesia is going to be the host of two big events: Asian Games that will be held in Jakarta and Palembang from August 18 until September 2 and IMF-World Bank Annual Meeting 2018 in Bali on October 12 – 14 that is expected to be attended by 18,000 delegates from 189 countries.
"This is an important moment for Indonesia and its tourism, this goes to show that our country is stable and safe since we've been trusted to host these two great events," told Arief.