Gempak, Malaysia – Penyanyi popular Indonesia, Rossa akui bertuah dapat membuat persembahan duet bersama dua vokalis utama kumpulan K-Pop terkenal Super Junior, Yeesung dan Ryeowook.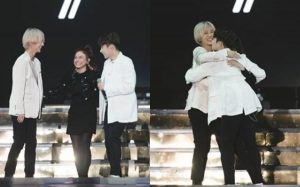 Rossa menerusi akaun Instagramnya mengucapkan terima kasih kepada Yesung dan Ryeowook kerana sudi berkolaborasi menyanyikan lagu Tegar.
"Terima kasih Yesung @yesung1106 & Ryeowook sudah mau menyanyikan lagu Tegar dan berkolaborasi dengan aku," tulisnya.
Tambah Rossa lagi, dia juga berasa begitu gembira kerana diterima baik oleh peminat Super Junior iaitu ELF.
"#ss7s 's stage felt so good!! And thank you ELF Indonesia, I feel welcomed by all of you. 잘부탁드립니다 ❤" tulisnya.
Selain itu, Rossa juga turut berkongsi beberapa foto momen indah bersama Super Junior. Terdahulu, Rossa merupakan tetamu istimewa yang dijemput untuk membuat persembahan di konsert Super Junior Super Show 7S yang berlangsung di Jakarta pada Sabtu lalu.