JAKARTA, KOMPAS.com — Penyanyi solo wanita, Rossa, mempromosikan single "Tak Sanggup Lagi" yang merupakan salah satu lagu baru dalam album The Best of Rossa.
"Sampai sekarang album ini (The Best of Rossa) sudah terjual hingga 1,4 juta kopi," kata Rossa selepas tampil dalam salah satu acara I-Radio di Jakarta, Sabtu malam.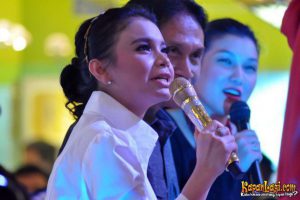 Penyanyi yang bernama asli Sri Rossa Roslaina Handayani itu mengakui angka penjualan album yang diluncurkan pada November 2011 itu sebagai berkah Ramadhan.
"Penjualan album ini bahkan telah melampaui angka penjualan album sebelumnya," kata penyanyi yang populer dengan tembang "Ayat-ayat Cinta" itu.
Dua lagu baru lain Rossa dalam album yang didistribusikan di toko-toko makana cepat saji itu adalah "Jangan Ada Dusta Di Antara Kita" dan "One Night Lover" di mana Rossa berduet dengan penyanyi rap Malaysia, Joe Flizzow. "Lagu-lagu lainnya merupakan lagu original saya dari album sebelumnya," kata ibunda Rizky Langit Ramadhan itu.
Pengamat musik Bens Leo yang juga hadir dalam acara itu mengatakan Rossa sudah layak mempunyai album "The Best". "Karena dia sudah punya lebih dari lima album termasuk album soundtrack. Malah ada yang katakan (Rossa) telat punya album 'The Best'," kata Bens Leo.
05 Agustus 2012, 11:15 WIB