STRAITSTIMES – Fans of Indonesian singer Rossa might well have thought they were hearing things when they caught wind of the new single she launched at a media event in Singapore last month.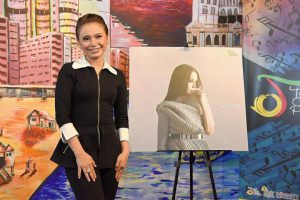 Titled Body Speak, it is her first song in English after more than two decades of singing in Bahasa Indonesia. And it also features a new sound. The electronic dance musicinfluenced, upbeat dance-pop track is a far cry from ballads, such as Kamu Yang Kutunggu (You're The One I've Been Waiting For, 2014) and Tak Sanggup Lagi (Can't Take Anymore, 2012), that she is best known for.
It is from her latest record, A New Chapter, which features three other tunes sung in English, together with Indonesian songs. It will be released next month.
"This album represents a new chapter for me. I wanted to make music that's never been heard in my previous albums," says the 38-year-old. "After being in the music industry for 21 years, I wanted to celebrate by releasing an album with a different flavour."
To get her new sound, the singer travelled to Los Angeles and worked with a team of American songwriters and producers. She credits vocal producer Mitch Allan, known for his work with pop stars such as Selena Gomez, Miley Cyrus and Kelly Clarkson, for helping her to nail down the recordings.
"English is not my first language, so I took longer for the recording sessions than I would when I sing in Bahasa Indonesia," she says.
"Usually, each song takes less than an hour for me to record, but this time, I spent about three hours on each. I was struggling with the pronunciation and he would correct every word."
By singing in English, Rossa also hopes to expand her fanbase beyond Indonesia, Malaysia and Singapore. After all, fellow Indonesian singer Anggun managed to score a global hit with her 1997 album Snow On The Sahara.
"She's my idol," Rossa says of Anggun. "When I was a kid, I looked up to her as a diva and I can't believe that we are now good friends."
Rossa's new album also includes a song, Bukan Maksudku (Not My Intention), written by another close friend – Singaporean singer-songwriter Taufik Batisah. She and the former Singapore Idol champ had a 2012 hit together, the duet Aku Bersahaja (I Am Ordinary).
"I spend a lot of time with Taufik and his wife whenever I come to Singapore," she says. "We're going on a trip together to Melbourne this month to watch a concert by Adele."
Born Rossa Roslaina Sri Handayani, she started out singing as a child and released an album of children's songs, Untuk Sahabatku (For My Friend), at the age of 10. That album was a flop and her career took off only after she released her first album as an adult, Nada Nada Cinta (Tones Of Love), in 1996.
Her popularity in Indonesia, Malaysia and Singapore soon skyrocketed, not just through her albums, but also because of her theme songs and soundtracks for popular Indonesian television serials, such as Hati Yang Terpilih (The Chosen Heart, 2000), and movies, including Ayat-Ayat Cinta (Verses Of Love, 2008).
Over the years, she has won several accolades, including Most Favourite Female Artist at MTV Indonesia Awards 2000 and Best Female Artist at Anugerah Planet Muzik 2011.
Rossa, who was given the title of "Datuk" by the Pahang Sultan in 2013, has also branched into fragrances and womenswear.
Her schedule might be tight, but she always keeps Tuesdays and Thursdays free. They are reserved for giving mathematics, science and social studies lessons to her home-schooled, 10-year-old son from her former marriage to Yoyo, drummer of Indonesian band Padi.
"I feel like his childhood passes by so fast and I don't want to miss spending quality time with him."