Asia Pop 40 – We asked you who was your Queen of Indonesian Pop, and the votes are now in and have been counted! You guys have spoken!! Congratulations Rossa! She is your #AP40vote Queen of Indonesian Pop!!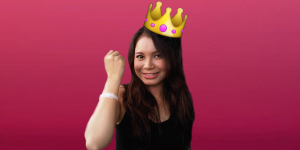 Rossa was in 2nd place behind Fatin Shadqia Lubis for most of the campaign but a late surge of support from her fans saw her take the crown! Fatin took second place after leading right up until the final day! Anggun's fans got involved late on and pushed her into third place & finishing just behind in 4th place was Agnez Mo.
Make sure you tune into Asia Pop 40 next week as we will be featuring new music from Rossa!
We are also now asking you to choose your #AP40Vote Fan Favorite, so head on over to www.Google.co.id and type in Asia Pop 40 Vote.
Congratulations again to Rossa, she is your Queen of Indonesian Pop!
Here's how final leaderboard results breakdown: