The Jakarta Post – Being a pop star in this day and age is no easy feat, despite how easy many make it look. Even big-name singers tend to suffer from the feeling of stagnation, wondering what new direction they can go in, especially after decades in the industry and facing rapid shifts in trends.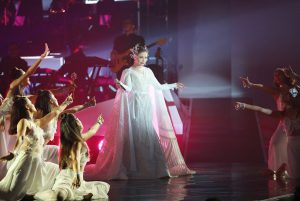 Some experiment with other genres, sometimes to the chagrin of their fans or label, while others form new bands with new people to keep their ideas fresh. For some, it's as simple as taking a random chance to develop their craft to suit their new influences or new times.
A veteran of the Indonesian pop scene, Rossa has soundtracked countless Indonesian love stories, real or staged, for the past 21 years. Her portfolio of songs includes many pop staples, such as "Ayat-Ayat Cinta" (Verses of Love), "Nada-Nada Cinta" (Melody of Love) or "Cinta Tak Termiliki" (Unreachable Love), and her music is featured in films like the blockbuster Ayat-Ayat Cinta and the biopic of Indonesia's Casanova founding father Sukarno.
This year she returns with an album titled A New Chapter, a collection of songs, with four sung in English, which literally represents a new chapter in her music. Taking cues from current pop stars and production techniques, her music emerges fresher than ever, able to take on even her younger counterparts on the radio.
Her new album oozes of the high-end, savvy clean production distinctively heard in many pop songs of today, with Rossa even stating current pop stars Rihanna, Demi Lovato and Ariana Grande as influences in this album, coupled with traces of influence of her biggest idol, Celine Dion.
"A New Chapter is titled as such because to me, it's all new. I've been in this industry for 21 years, so it's like two decades plus one year. [2017] is my "first" year after the decades. So I decided to make something different," she said in a recent interview.
"Body Speak" is a track she said helped her be featured as MTV Asia's first Indonesian "Spotlight" artist. What also helped is the fact that her music is quite popular in places like Singapore and Malaysia, where she has amassed a considerable fan base.
A New Chapter was released on KFC Records, which ironically is probably the only major music distribution platform in Indonesia that is seen as doing well. Even though A New Chapter is currently gaining on 150,000 copies in its first month of release, the death of many major local record stores, such as Aquarius and Disc Tarra, has seen distribution channels for artists on her level shrink considerably.
"KFC is the best way we have so far. Major labels [such as Universal, Sony or Warner] don't have as many major local artists as they used to," said the 39-year-old singer.
Rossa's musical ideas come not only from her personal feelings, but also from love-related experiences around her.
"If I didn't have confidence in my material, I wouldn't bother recording it. It's hard to gather all the inspiration and material for one album, let alone the entire production process. I'd rather stick to doing an album every two years," she said.
Despite her unbridled optimism and ever-positive energy, Rossa admitted that she fell into a low point around two years ago after her previous album was released. Unsure of what direction to take with her music after sailing in the business for two decades, she contemplated ditching her career and starting a business or moving elsewhere.
"In 2015, I decided to take a break from everything to deal with this feeling. But then I received an offer to soundtrack a teen-romance film called I Love You At 38,000 Ft. Their first trailer apparently used a very old song of mine, and I kind of felt bad, because it seemed like I didn't have anything new to offer them," she explained giddily.
After recording a new song for the film, Rossa was invited to check out the Songwriters Camp in Bali, where many Western pop songwriters were congregating for a few days. Little did she know that the exposure to that crowd would further revive her inspiration.
"I struck up a conversation with a fellow named Tushar Apte, who was responsible for some of Rihanna's and Chris Brown's songs. So I asked him if he'd ever worked with any Asian artists, and he said he hadn't. I just went for it. Next thing I knew, I went straight to work as I got home and I was passing demos with him by the week after."
Rossa flew to Los Angeles to record four tracks in English. Her producer was Mitch Allen, who is also a member of early-2000s alternative band SR-71. The process, seeing it was her first time recording overseas, was fascinating to her, in as much as it made her realize details she'd never realized during her entire recording career.
"If you listen to 'Break It Out' [the opening track], it'll seem like I sound different in some parts of the song than others. That's because I was recording with multiple microphones that had their own character. I had never noticed this kind of technology until then," she said.
Recording at an American studio resulted in parts of the album sounding crisper than most local songs on Indonesian radio today. Her experiment paid off in the end, with the artist emerging more confident in her music than ever.
Rossa plans to hold a concert celebrating the release of the album at Singapore's Esplanade Theatre in November. The lack of considerable music or concert venues in Indonesia may have affected this decision, but ultimately it is also about giving her adoring regional fans a new taste of their idol.
Because of her preference for the spontaneous, Rossa said she would just go with the flow by not really planning on what she wants to do in the future. After producing a record as personally satisfying as this one, it isn't strange for her to just enjoy the fruit of her laurels for now.
"I really do think this album is one of the best I've ever made, because it sounds different to what I've done before. Maybe next year I want to do something else, I don't know, I just let things flow, to keep it fresh," she said.