The Fifth Parlour – To mark her 21st year in the music Industry, Rossa, one of the popular Indonesian artists in Indonesia took a big step in her career by presenting an English song "Body Speak" composed by 3 talented American musicians – Steve Shebby, Joleen Belle and Michelle Buzz.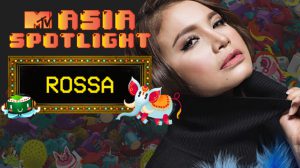 A press launch of the new single was held at Kaw Kaw Sg, Singapore. It had been a dream for Rossa to release her English single in Singapore. From her performance at the Asian Television Awards, the bubbly and jovial singer felt the love and support and wanted to release it here first as a gift to her fans in Singapore.
English is not her first language and it took longer than she usually does to record the song. The song was recorded in the United States with American musician and song-writer, Mitch Allan, who was also her vocal producer. Allan has worked with world class singers such as Demi Lovato, Miley Cyrus, Jason Derulo, Pitbull, Fifth Harmony and Kelly Clarkson. Rossa were thrilled to be the first Asian artist to work with him. She explains that she enjoyed the production process of the song despite experiencing some challenges. She learned from Allan and other musicians on the pronunciation techniques so as to match the lyrics and feel of the song.
Earlier on Trinity Optima Production, Rossa's recording label, presented snippets and teasers of "Body Speak" leaving a hint of mystery as to who owns the song.
Known for her ballads and melodiously romantic songs, Rossa now portrays a different side of her. "Body Speak" is a dance-music-infused track with a beat that resonates with the current trends. She certainly sounds fresher and revamped with a modern, deep teenage vibe to the song.
"This song is very different, including the lyrics. There is a revision in the lyrics because I feel that the original lyrics contain a few words that may be too vulgar. So I feel it's best if the lyric is changed. I suggested to change a few words so that it is more implicit," Rossa said. For the video clip of "Body Speak", Rossa chose a modern concept with no storyline. "Just the dancers and me" She stated.
Personally, I feel that this song has the persuasive power to make you want to get up and groove and is definitely a "love at first listen" kind of song as the tune keeps on humming through your ears.
Rossa is the first Indonesian Artist to be featured on MTV Asia Spotlight. Check out for updates and the "Body Speak" music video on MTV. Expect a total change in her grooming and image for her upcoming album.
We wish Rossa continued success and to be globally known, and we look forward to her full album "A New Chapter" in April 2017.