AUNBizData – Boyband group from South Korean, Super Junior held a concert in Indonesia with the title Super Show 7S . This concert was held on Saturday (6/15) at ICE BSD, Serpong, Tangerang.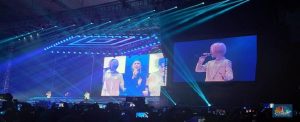 This is an additional concert from Super Show 7 tour concerts which have been held from December 15, 2017 to December 1, 2018. ELF, Super Junior fans, immediately enlivened the social media mass line with the hashtag # SS7SinJkt.
Even though they didn't bring all members because of several reasons, the appearance from Leeteuk, Eunhyuk, Heechul, Donghae, Shindong, Ryeowook, Siwon and Yesung on Y-shaped stage for about 2.5 hours were quite satisfying fans. This is the first time Super Junior has returned to a big concert in Indonesia after four years.
Many surprises given by Super Junior. One of them is the appearance of a famous diva singer from Indonesia, Rossa in the middle of a concert. At that time, Super Junior's Ryeowook and Yesung, were singing Tegar which was popularized by Rossa.
Ryeowook was the first to sing this sad song, then Yesung also sang using fluent Indonesian. Shortly, there was a female voice who was none other than the original singer, Rossa. They continued to sing Tegar together. This made whole audience uproar. Even the audience sang along with Rossa, Ryeowook and Yesung.
After finish their song, Rossa who wore a black dress also thanked two members of Super Junior for giving her a chance to stage together. Rossa then got a chance to sing solo on "Super Show 7S" stage, performing her song, Pudar.
After Rossa duet with two Super Junior members, she was talked a lot in social media, especially Twitter. They were amazed by Ryeowook and Yesung who were able to follow the rhythm of Rossa. They also praised Indonesian fluency from Yesung and Ryeowook.
Source: https://www.cnnindonesia.com/hiburan/20190615231250-227-403599/duet-rossa-dan-yesung-ryeowook-dalam-konser-super-junior